THIS IS PREVIOUS GENERATION HARDWARE. FOR MORE INFORMATION ON OUR LATEST HARDWARE GENERATION, CLICK HERE.
The PB5 processor card is a previous generation of processing hardware for the RTDS Simulator. Prior to the release of NovaCor, RTDS Simulators were based on PB5 processor cards connected to a backplane in units called "racks".
The PB5 card is fully compatible with the GPC processor card. Racks containing PB5 cards, GPC cards, or a combination of both are also fully compatible with NovaCor chassis.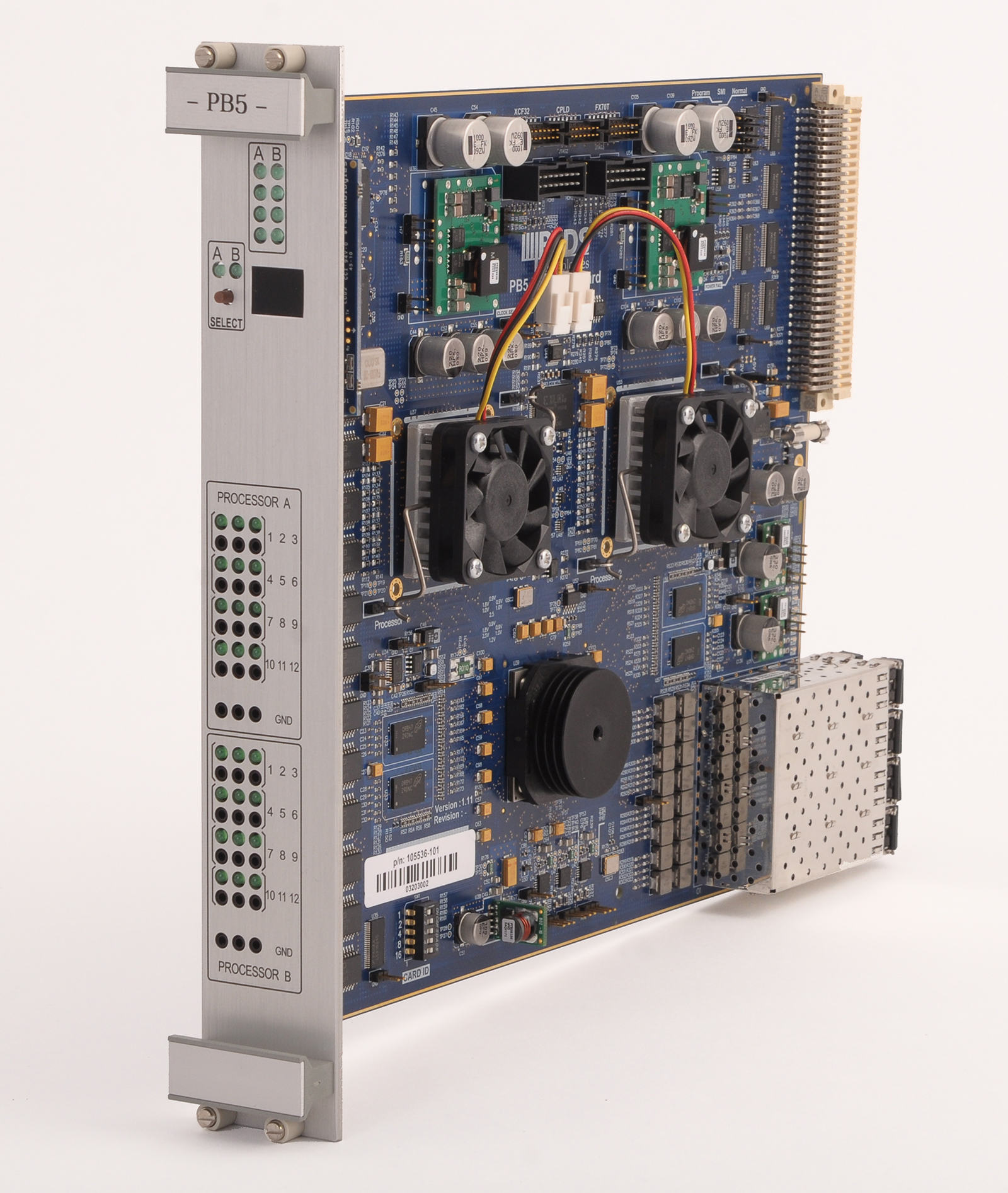 The PB5 is a powerful computational unit which is used for solving the overall network solution and auxiliary components (i.e. transmission lines, generators, etc.). Each PB5 contains two Freescale MC7448 RISC processors each operating at 1.7 GHz.
PB5 based racks allow one or two network solutions to be solved on one rack. Each of those network solutions can include a maximum of 90 single-phase nodes or 30 x 3-phase buses. Therefore, 2 subsystems with 90 nodes each can be included on one rack. However, other PB5 processors are required to solve the component models within the simulated network (i.e. transmission lines, generators, transformers, etc.). Signal exchange between the PB5 cards is accomplished through a common backplane to which all cards within a rack are connected. Direct communication between PB5 cards can also be accomplished using the optical ports mentioned below.
Each PB5 card also includes 24 (i.e. 12 per processor) non-isolated 12-bit digital to analogue converters (d/a's). The d/a output range is +/- 10 Vpeak. The PB5 card has eight optical ports that can be used interchangeably for connecting to high resolution digital and analog I/O cards or for direct communication between PB5/GPC processor cards.
Hardware Exchange Program:
Customers who participate in our Hardware Extended Warranty Program are eligible for the hardware exchange program. The PB5 card is included in our hardware exchange program. This means that customers can exchange old processor cards to receive a significant reduction in the purchase price of PB5 cards. Several of our other hardware items are also included in this program.