Phasor measurement units (PMUs) and wide area measurement, protection, and control (WAMPAC) schemes continue to play a pivotal role in the modernized grid. Wide area schemes have great potential to improve the reliability and dynamic security of the power system by providing real-time local information to a central control hub via distributed PMUs. Transformative systems such as these are often off the table unless they are fully de-risked and validated prior to deployment. The RTDS® Simulator allows engineers to represent the behaviour of the network in real time, over a wide frequency range, enabling them to perform hardware-in-the-loop testing. Real-time simulation with wide area schemes in a closed loop is the fastest and safest way to demonstrate operation and mitigate risks prior to deployment.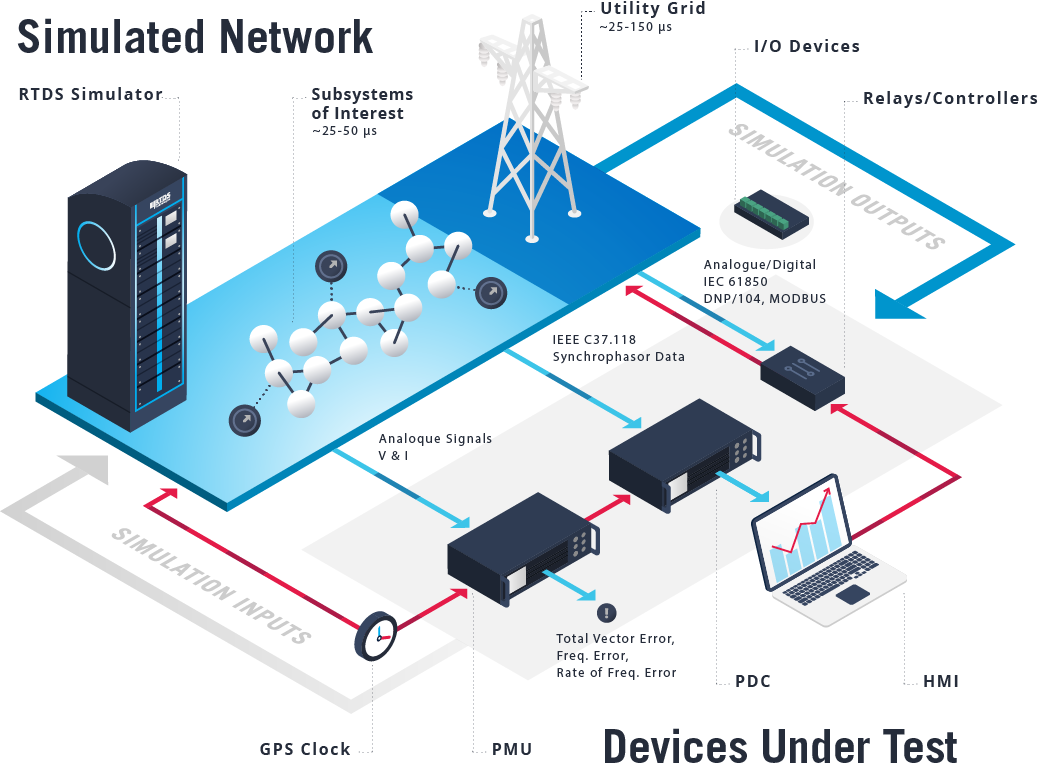 There are multiple types of closed-loop testing projects possible in the context of wide area schemes and PMUs
STREAM SIMULATED SYNCHROPHASOR DATA TO EXTERNAL DEVICES
Represent tens to hundreds of PMUs in a single real-time simulation. View simulated PMU output on your workstation and/or stream it to an external phasor data concentrator (PDC).
Stream IEEE/IEC 60255-118 (and/or C37.118) compliant data from the simulation
P or M class data streams supported
Reporting rates up to 240 frames per second
Flexible models: Provide positive, negative, and zero sequence data OR choose a larger number of PMUs and represent positive sequence data only
SYNCHRONIZE THE SIMULATION TO AN EXTERNAL TIME REFERENCE
The RTDS Simulator's GTSYNC card allows the simulation timestep to be locked to an external GPS time reference via 1PPS, IEEE 1588 PTP, or IRIG-B signals. In the absence of an external GPS clock, the RTDS Simulator can also create its own internal synchronization source.
TEST THE PERFORMANCE OF PMUS AGAINST CONFORMANCE REQUIREMENTS
The PMU Test Utility is a user-friendly program included with the RTDS Simulator software that allows for straightforward and efficient testing of the electrical performance of PMUs.
Test against the IEEE Conformance Assessment Program (ICAP)'s Test Suite
Conveniently control waveforms to apply to an external PMU via analogue output or IEC 61850 Sampled Values
Evaluate frequency, ROCOF, and total vector error of the device
Generate performance reports
MAGNITUDE RESPONSE - PHASOR CH 1 VA (+ve MAG STEP)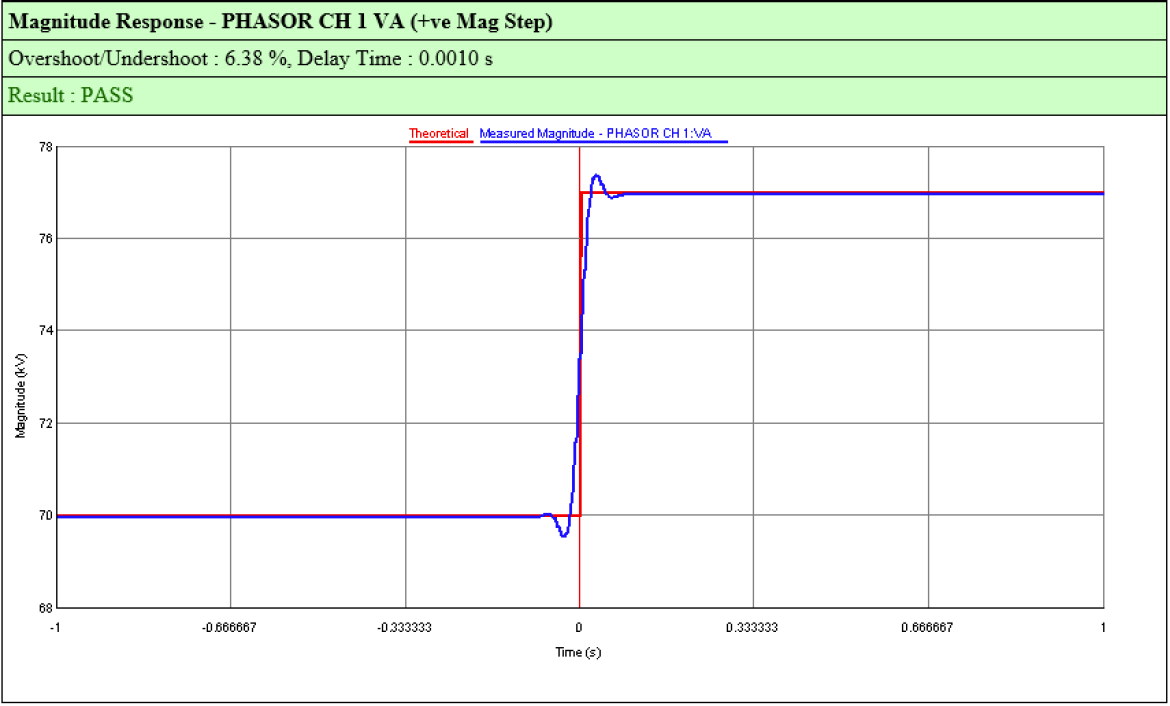 Overshoot/Undershoot: 683%, Delay Time: 0.0010 s Result: PASS
The PMU Test Utility records a PMU's response to a step change in voltage magnitude and issues a pass based on the IEEE Conformance Assessment Program requirements

JOIN THE LEADING INSTITUTIONS WHO HAVE TESTED WIDE AREA SCHEMES WITH THE RTDS SIMULATOR
Southern California Edison: This utility operates one of the USA's largest real-time simulators, which they've applied to the testing of synchrophasor-based Remedial Action Schemes (RAS) to maintain system stability under potential thermal overload.
Denmark Technical University: This university's Secure Operation of Sustainable Power Systems (SOSPO) project investigated the real-time assessment of power system security and stability. The RTDS Simulator was used to simulate an equivalent Nordic power network, and over 170 synchrophasor data streams were sent from the simulation to external equipment.
Pacific Gas and Electric: This utility's state-of-the-art Synchrophasor Proof-of-Concept facility in California allows PMUs from many different manufacturers, substation-hardened PDCs, and visualization tools to be integrated with the RTDS Simulator.